Ag obair le Kate
18 May 2014

(Tógtha ó blog Shauna).
Inniu tháinig bean (Kate Buckley) go dtí mo scoil. Is ealaíontóir í. Tháinig sí ón Nua Shéaláin. Bhí muid ag caint faoin scoil i Haast. Beidh sí ag teacht go dtí ár scoil ar feadh cúpla seachtaine.
Ní féidir liom fanacht go dtí Dé Máirt mar beidh sí ar ais agus beidh sí ag déanamh ealaíne linn.
The End
Le Shauna. 🙂 🙂 🙂
——————————–
23 May 2014
We voted yesterday on Edmodo about our preferred sweets: Iced Caramels from Ireland or Pineapple Lumps from New Zealand.

———————————–
3 June 2014
We have been having lots of fun with our visiting artist Kate. Here we are working on our personal art pieces using oil pastels. We cannot wait to share them with our new friends in Haast! Thanks Kate!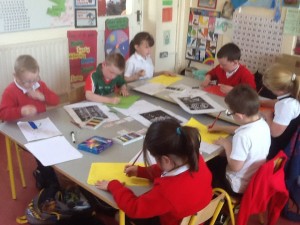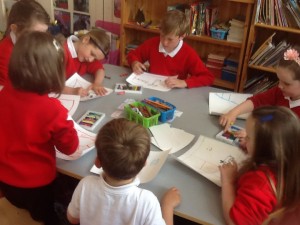 ————————–
10 June 2014
Rinne muid pictiúrí iontacha le Kate Buckley, an ealaíontóir ón Nua Shéaláin.
We have made abstract self-portraits with Kate. You can download instructions on how to make abstract self portraits using symbols,from Kate's website.