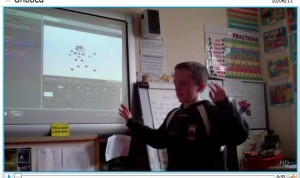 Link to short videoVideo showing how we connected Scratch with Kinect
We started working on our Scratch programming after Christmas and then this new game  came out it was called The Kinect and you could use it for the Xbox 360.
Our teacher Mrs Connolly went to a conference and she found out about connecting  Kinect with Scratch.
When the teacher came to school the next day she told us about using Kinect on Scratch.
A few days after Mrs Connolly got the Kinect for Scratch.
 Then, when she fekt we were ready to try it for ourselves, the teacher tried it at home till 1 o clock in the night and she couldn't get it to work. So she emailed Steven Howell. He was the one who set up the program. Steven emailed her back in 10 minutes.
The next morning she tried it again at school on her own laptop and it still didn't work. Then she tried a different laptop ( it was my laptop from the school ) and it worked! It was break time so we went outside. We came in and tried it again and it worked again. We tried it later in the day and we had great fun with it that day .
To see how we did it, you need to visit http://stephen-howell.tumblr.com/ who shows how to do it.
By Alanna. x