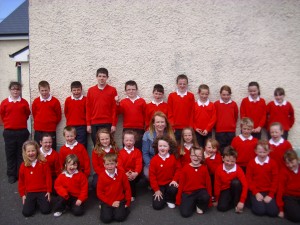 Barbara Deane, who is Eve's mum, has volunteered to run a marathon in Kildare on May the 13th for Inver National School. It is an amazing thing for someone to do and we are delighted she is doing it for us. We are going to raise money through her marathon for the school. We hope she does well and we are all cheering for her.
By Erin and Niall
On May the 13th Barbara Deane is doing a marathon in aid of Inver N.S It's 26.2 miles long and she has to run the full thing! She is also fundraising for our school. She does a lot of training. Everyday she goes in to Belmullet, past Barnatra to Pullatomas then back to Gortbrack where she lives. We found out that if you stop in the middle of the marathon you won't be able to move as fast because your knees lock up and you become exhausted and 'hit the wall'.
Barbara is a very brave women to do a Marathon. We wish her the best and we say 'Go Barbara!'
By Matthew and Padraig 6th.