Beidh Co. Maigh Eo ag imirt in aghaidh Co. Dún na nGall i gcraobh ceannis na hÉireann ar an 23ú lá de Meán Fomhair. Tá súil againn go mbeidh an bua ag Maigh Eo. Ní raibh bua ag Maigh Eo ó 1951 agus síleann muid go bhfuil bua tuillte againn anois.
Mayo will be playing against Donegal in the All Ireland Football Final in Croke Park on the 23rd September. Mayo haven't won the final since 1951 and so we are all hoping that Mayo will win.
There is an account here of how Mayo have fared in All Ireland finals since 1916 here.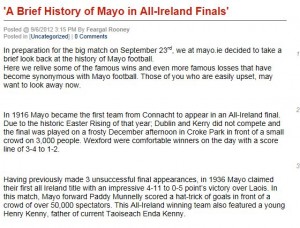 We have been looking at the Mayo logo and it shows Croagh Patrick, Co. Mayo where St. Patrick, the patron saint of Ireland built his church. People often go on pilgrimmage to Croagh Patrick. We call it the 'The Reek'. The logo also shows nine yew trees. Maigh Eo means the plain of the yew trees and each tree stands for a barony. We live in the Barony of Erris.
 Tá muid ag cleachtadh 'The Green and Red of Mayo' ó na Saw Doctors. Tá an amhrán le fáíl anseo:

We are looking at some interesting facts about the GAA and football in Ireland here. You can download this booklet from the GAA here: http://www.crokepark.ie/getmedia/eefdc605-63f5-4cc4-a2d4-97df8ba8473a/Final-2.pdf

Click to launch the full edition in a new window
Self Publishing with YUDU