About 2 weeks ago we did something called "Carols For Crumlin". Our Ladys Secondary School called a lot of Primary schools togther to sing Christmas carols for a childrens hostpital in Dublin. It is called "Crumlin Childrens Hostpital".
Andy Moran, the captain of the Mayo football team, was also there. Lots of people got Santa hats signed by him.
We did 3 songs, Jingle Bells, Come Oh Ye Faithful and O Holy Night. We raised €3,106.11!!! Lots of people showed up. I am very proud.
By Amy

Our Lady's Secondary school choir and all the national schools in Erris did Carols for Crumlin. We had two practices in the school and in the Broadhaven Bay Hotel.
In the first practice we sang the songs we sang 'O-Holy Night', 'O-come all ye faithful', and 'Jingle bells'. In the second practice we got into our spots so we would know where we were on the night.
Then it was the day we did the choir. First we sang 'Jingle Bells' and went back into the Disco. We had Crisps, Sweets and a Drink and waited for out time to sing. We also got a picture with with Andy Moran, He is a football player for Mayo and we got santa hats and he signed them as well.
We waited for our turn and went onto the stage. We sang 'O holy night' and 'Come all ye faithful'. They raised €3,106.11. I really had a good time doing it.
By Alison.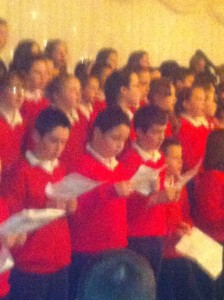 Carols for Crumlin from SN an Inbhir on Vimeo.
On the 6/12/12 children from different schools joined a choir.Our Ladys Secoundary school choir.
It was called Carols For Crumlin. Crumlin is a Hospital for very sick children, its a very big hospital in Dublin
On the night we did our very first song it was Jingle Bells after that we came down and waited for a while.
Then we went back up to sing our last two songs ' Oh come all ye faithful' and 'Holy night' everyone clapped and cheered for us. when we came down everyone met Andy Moran and his sister.Andy Moran is a gaelic footballer he is the captain for the Mayo team.He is very good.
We all got our Santa hats signed.
The teachers were very nice and at the end of the night they raised €3,106 euro that was very good.
I enjoyed the night and hopefully can do it again
By Leanne