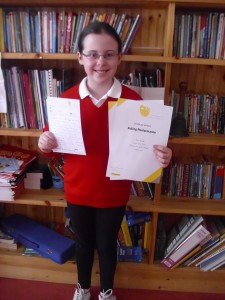 A few weeks ago I had a drama exam . I go to Fiona Burke's School of Drama in the Broadhaven Bay Hotel on Thursday evenings.
For my exam I had to act out a piece from "Charlie and the Chocolate Factory", mime a piece from Goldilocks, read a piece of a book and say a poem . The poem was called " The Runaway" and the book was called "Best Friends" by Jacquline Wilson.
I got 90% for acting (and a medal) and 87% for everything else.
I am really proud of myself , I can't wait for next years class!
Amy