On the 2nd of June a woman called Mairin ni Mhurchu came to our school to make scones with us. First, we were put into groups and we were called up to make the scones. I was in the second last group. We put in flour, baking soda and salt and took it in turns mixing. Then we added buttermilk and mixed. Then Mairin kneaded the dough and flattend it a little. Then we all took it in turns cutting little scones then Mairin put them on a tray And baked them. She had come in before making soup so this was her second visit I really enjoyed the day.
8 oz 200g of brown flour
Pinch of salt
Level teaspoon of baking soda
And as much buttermilk as you need
Bake for 20 min according to size of scone
ENJOY!
BY Erin
On the 4th of June a women came into our school to make scones with us. She made soup with us before and it was delicious. We made scones to time, first all the little ones came into our room because she was doing it in there. We all went up in groups of six to go and mix the mixture.
She firstly go the ingredients which were, brown flour, butter milk, baking soda and salt. Then she got the six people to mix it one by one. When we mixed the flour, baking powder and salt she added the butter milk. Then we again mixed it again. It turned into dough and she flattened it out. After that she got a circle shaped thing that was shaped in a circle and would cut it into a circle. We all cut one and it would make around twelve circles. When that was done she put them in the oven, she already had the oven heated so she placed them in the oven.
After 10 minutes or more they were done we had a choice to either have them plain, with butter, with jam or with jam and butter together. I had just butter and it was lovely. After we ate them she learned us a song about scones. We had about three scones each. It was a really fun day. I hope she makes something else with us in a few months.
By Alison
Mini scones
On Tuesday a woman called Mairin Ni Mhurdiu came to our school to make scones. We started off in groups of 6 and started baking. We put flour ,salt ,baking soda & butter milk.
When the first group was done we went on to the second group went up and made another batch and then put them in the oven.They smelled absolutely delicious.
When the scones came out of the oven we made some more.My group was the last group in my group there was Ailish Amy Liam & I. We all mixed the ingredients together and then used the scone cutter to make a shape of a mini scone. We only made mini scones because if we did big ones it would take nearly an hour to bake.
In the end we all ate some lovely mini scones with either jam butter or just plain. I had butter on mine.
I loved making scones with Mairin and I would love if she came again to bake some more delicious things.
Is brea liom scones.
Le Lisa
Making scones with Mairin
On Tuesday we made scones with Mairin Ni Mhurdiu we went in to groups of 6 to go up and make the scones. Me and Ava were the first ones up because we move to a different seat so that we could let Mikey and Siobhan sit in are seats so that they can see Mairin making the scones.
In my group there was Orla Rose Sophie Eve Hannah and Ava.The ingredients was salt baking soda brown flower and butter milk.
We took turns mixing the dough it was fun we put the butter milk in when we were mixing the dough.
Then we put them in the oven for 20 min.After us we went down and then another group came up.We got very hungry with the lovely smell.
When we were all done we had a taste of our Buns just in case we did your did not like them I love them there were lovely I hope Mairin Ni Mhurdiu comes in another day.
Is Maith liom an scones.
By Orla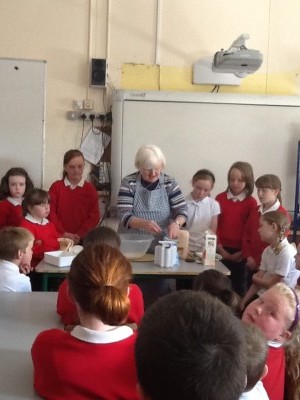 Making Scones with Màirín
On Tuesday a lady called Máirín came to the school to make scones with all of us. She came to the school last year to make homemade vegetable soup, it was lovely. But this time we made scones.
We went up in groups of six. They are easy to make the ingredients are:
Brown flour,
Baking soda,
Butter milk,
& a sprinkle
of salt.
There were four groups and in my group there was Liam, Amy,Lisa & I. We all got a go at mixing the dough. First she put eight ounces of brown flour then she put a flat teaspoon of baking soda and a sprinkle of salt. After that we poured the butter milk in and we all got a mix it was a bit stiff with the butter milk in it though. Then she put some flour on the table and flattened the dough out on the table. After that we got to cut out the dough with the scone cutter it was fun.
Then we put the scones in the oven for twenty minutes. The smell of them was lovely. I hope Máirín comes back again and makes something different, I really enjoyed cooking and hope we keep it up in class!!!
By Ailish
Bye for now!!!
Making Scones
On Tuesday we made scones with Máirín we knew Máirín because last year she came to make soup with us and it was lovely.
When she arrived at the school she brought all her supplies in to the school and got ready.She had to put on the oven so it would be hot when we were putting the scones in to it.
When she was ready the teachers picked groups the first group was Me, Orla, Rosaleen,Ava,Hannah and Eve first she told us what you need then we started to bake scones.
Here are the things you need to bake scones
Flour,
Baking soda,
Butter milk,
& salt.
First she put 8 ounces of brown flour into a bowl then we put a levelled teaspoon into the bowl and we put a sprinkle of salt in it then we put some butter milk into it. When we did that she let all of my group mix it all together one by one that was fun then it was time to put them in the oven.
When the bell rang that meant that they were ready.When she took them out you could smell a lovely smell. That's when some of us knew that they would be nice. When they cooled down it was time to eat them I asked for butter on mine they were lovely I had 2 of them and my friend had 3.
I love baking scones
By Sophie
On Tuesday a woman called Marin came in to make scones. First she called us up in groups it was me Sophie Orla Ava eve and Hannah.
I had great fun then she called more groups up Mrs Reily went around to see what we wanted on the scones I wanted butter on the first one then .
I had another with jam on and then the hole class just had one more before that we had to put the ingreedients we put baking soda butter milk a sprinkle of salt .
I had great fun making the scones I wish she could come again sone other day