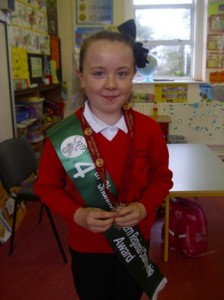 My favourite hobby is Irish Dancing. Irish Dancing is the traditional form of dancing in Ireland. Many countries have their own form of traditional dance, but none of them are as well known as Irish Dancing. Irish dancing is also one of  the most advanced type of dance. there are five grades of dance, Búngrád, Ullmhúcán, Méangrád, Ardgrád and Creabhgrád. Each grade is more advanced than the other. I'm on Méangrad going on to Ardgrád. There are about 6 dances in each grade. 🙂
The reason I like Irish Dancing is because it keeps me fit and healthy. I have also made loads friends since I started, and its also really fun. I have  two lessons a week, one on Monday's and the other one is on Wednesday's. I love having loads of friends dancing with me.
When I'm dancing I wear white socks (poodle socks) and either 'poms' or Heavy shoes, I also wear a Class dress, a Class dress is a dress that only your dance school wears. There are also Solo dresses, that is a dress of your own choice. I don't have a Solo dress, but I'm getting one soon, I have a class dress though.:)
Obviously, this means people have to make the dresses and shoes. Many people make a living from Irish Dancing. Three examples of these  people are: Dance teachers, Designers of the dresses and people who run dance shows. Dance shows are responsible for Irish Dancing becoming a worldwide phenomenon. This truly began when Michael Flatley decided to put on the show 'Riverdance'.Riverdance caused an instant a attraction with people around the world.
Unfortunately there is a downside to the world of Irish dance. It is a VERY expensive hobby. The cost of the lessons, shoes, dresses, competitions, etc all add up to an enormous mount of money. Solo dresses can cost up to €5000 to €6000  euros. There is pressure in some dance schools, but not in mine. To take part in extreme measures  is to be noticed, this includes make-up, false tan, high bouncy wigs and glittery socks. It is unfortunate that the attention is taken off the dancing.
In the future I hope to achieve more in dancing. I love Irish dancing and i hope I continue this hobby. I'm so nervous for the All-Irelands next year but I am practising loads. 🙂 🙂 🙂 🙂
By Ailish:)
:):):):):)