Mad Hair Day
On Friday the 13 December, our school hade a Mad Hair Day to raise funds for the children in Philippines through the Children helping Children charity. We all brought in 50c.
For my mad hair day, I created a Christmas tree in my hair. I had to get a cone, hair spray, tinsel,battery lights and this realy stickie spray.
The first thing my mum did was to brush through my hair. Then she put the cone in the middle off my head and started to lift all my hair up. Then she sprayed it with sticky spray. She got the hair spray and sprayed all my hair. I used white spray because I could not find green spray. Then as my hair began to look like a Christmas tree, we decorated my hair. It looked so cool when it was finished.Everyone wore Mad Hair into school that day.
My teacher sent all our mad hair photos into Children helping Children.
Then a few weeks after my teacher got an email saying that I won the mad hair day competition out of all of Ireland. I WON €50. I was so happy! 🙂 My teacher presented me with my prize last Friday.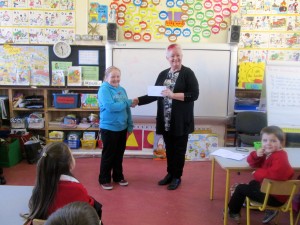 The end
By Grace