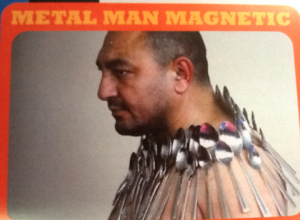 (From The Primary Planet February 2014)
My favourite article from this month's Primary Planet is about a man from Georgia who says his body is magnetic. He is putting on a show to prove his weird talent! Etibar Elchyer had the audience rubbing their eyes to see was this actually happening, apparently he balanced 53 spoons on his back and his chest.
The show went on by him pulling a Mercedes car, attached by rope to a metal sheet, and he actually pulled the car for 30 seconds.
Etibar reckons he'll pull a empty train carriage and an aeroplane.
Some people think human magnetism is a sign of supernatural powers and others think it happens because of sticky-skin.
The End!!