Our Quadblog partners asked us what Gaelic football is. So here goes:
Gaelic football: an Irish Sport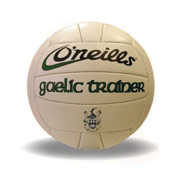 Gaelic is an Irish sport and is a bit like soccer except you are allowed to touch the ball with your hands. Gaelic can get a bit rough at times. Our school has a Gaelic football team, we actually have two, the boys team and the girls team. Their jerseys colours are black and red. Gaelic is a fun sport. We have to wear football shorts, Gaelic boots, football socks and a body warmer.
Our trainer is James Mason. He trains us every Friday. When he trains us, we do hand passes and solos.
The Gaelic ball is hard and round.In school, we play Gaelic football matches a lot in a series of Gaelic football games for schools which is called the "Cumann na mBunscol". Last year our teams even won the Erris final!
Nearly every county in Ireland has a Gaelic football team. Our own county Mayo has a football team too. Every year the country has a long series of gaelic football games and in the very end the winning county's team wins a big trophy called the Sam Maguire. Our county's team gets to the nationwide final but sadly they haven't won the Sam Maguire in over 60 years! Last year Mayo and Dublin were in the final but sadly, Mayo lost to Dublin and they took home the Sam Maguire. We were very disappointed but we all hope that Mayo will get to the final this year and win it!
Other countries have their own type of sport but I think that everybody is Ireland is happy that Gaelic is our own country's sport!
The End!
By Amy and Grace