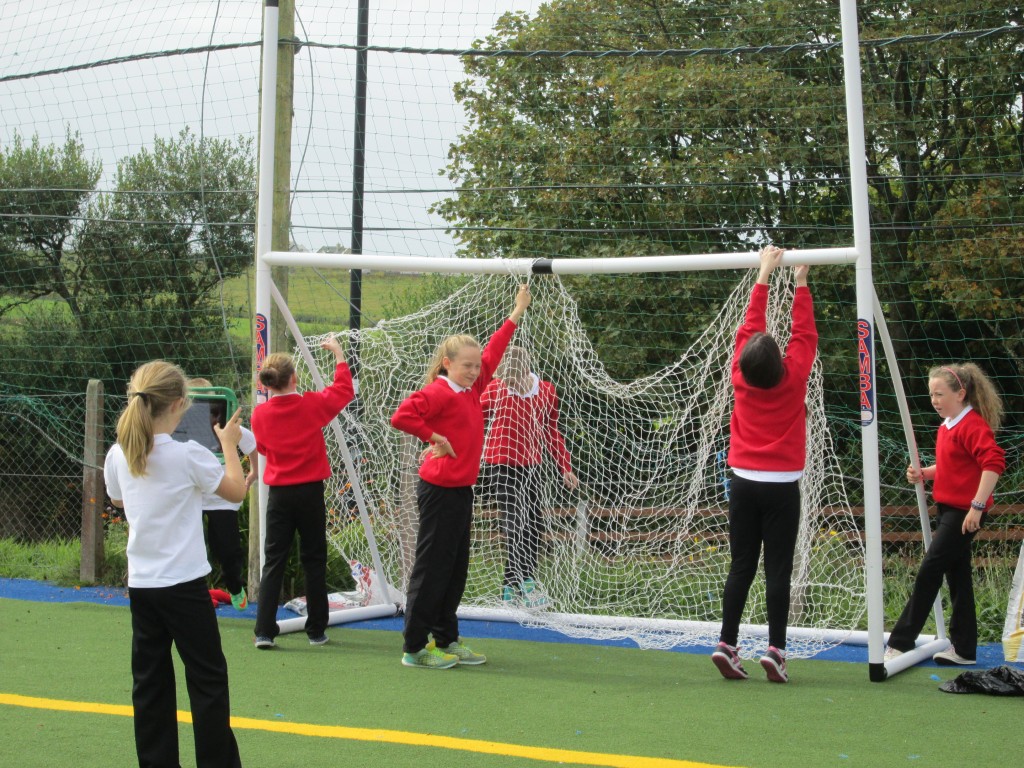 Bhí orainn na cúil a chuir suas inniú tar éis an tsamhraidh. Beidh muid in ann peil a imirt amárach. Míle buíochas len ár gcúntóir, Paula, as ucht a cabhair.

One of our first jobs today was to put up our goals. They had been stored away for the summer and now we are set to begin practising our football again. Thank you to Cúntóir Paula for all her help.
Some thoughts on being back at school:
We went back to school last Thursday! We only got homework today, but I'm kinda glad because we haven't had any in ages! I'm glad we're back to school!!!!
I'm sitting beside Lisa and Ava, April's opposite me! Me, Lisa and April are at the top of the table!! We have fun in class but we work really hard and put our heads down too!
I walk to school whenever I possibly can! I usually walk to school with Ava but I've had a bad cold and being feeling sick the past few days so I haven't walked to school yet!! I hope I get better!!!
We put up the goals today! It's was confusing. Lisa, Seamus, Orla and I put them up! the nets were tricky but we done it! Paula let us have a quick game after we put them up, just to check they were safe!
Im looking forward to this year at school! PLUS WE'RE IN SIXTH CLASS!!!!
By Ailish (From Ailish's Blog)
I am really excited about being in 6th class. I hope
I hope it is going to be a fantastic year!😀 I am
over excited about our confirmation 🙈. It's going
to be great fun having the craic with all my
friends.
I am a bit scared about having our BCG! I am also
missing my friends Shannon and Niall 😧😃.
I'm hopeful that I will improve in my maths and
Irish. 👍
By Lisa (From Lisa's Life)
'm happy about being back at school because I get to see all of my friends.
The bit I don't like about school is that you have to get up (EARLY) and get out of your pjs but school is fun to you can have a bit of craic as well.☺️
And I can't wait until the Gaelic season starts because I love playing football and the girl/boy teams are very good here. We have two new students in our school. Their names are Abby and Jack and I hope they will be able to play with our Gaelic team.😄
(From Orla's Life Blog)
I am happy about being back to school because I can see my friends again. I am in a new class. I like : Going on school trips, seeing the new little ones, making our Confirmation and football matches.
I amn't really looking forward to hard work. BCG! Homework. I don't like not being able to sleep in on the mornings.
After all, school isn't the worst place. You learn something new everyday! 👍📚💻
From April's Blog
We went back to school last Thursday . My summer holiday was class. My family and I went to lots of places. We went to watch all of the Mayo matches over in the pub. Unfortunately Mayo lost their last match.
I'm looking forward to starting back at our new season of Gaelic. I really like school, but I like a sleep-in some days.
The end
By Shauna (From Shauna's Blog)
This year I am looking forward to meeting my friends again. I also can't wait for the fun subjects like art and English. Even though I will miss the the summer holidays and sleeping in, it is good to get back into routine again and change things around a bit. This March/April we (6th class) will be making our Confirmation and I am also excited for that too!
From Amy's Blog
On Thursday we started school.
I was very excited.
First I looked into the small ones classroom.
It looked so different.
Then I met up with my best friends Hannah and Amy.
When the bell rang I went to my new classroom ( the
big room )
I went straight to my desk and got a chair. I had lots of fun and the work wasn't too hard.
anyway.
The End.
By Siobhan (From Siobhán's Blog)