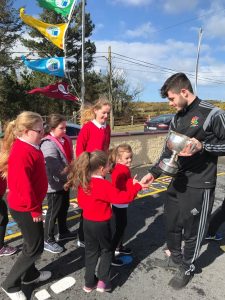 Matthew Doocey came to our school on Wednesday. Matthew won an All Ireland trophy with Our Lady's Secondary school. They won the trophy recently.
Matthew was in back for the team. The team won by 3 points.
The colour of the flag is yellow and red. Matthew has now won 2 All-Ireland trophiwa. The team has won this competition five times.
Matthew said the players they were up against were taller than them but his team worked hard and they won.
I got to hold the trophy and I got picture with Matthew with the whole school.
On Wednesday Matthew Doocey recently popped in to the school to show us the trophy that Our Lady's Secondary School in Belmullet won.
The trophy was won for Gaelic football and it was an All-Ireland trophy. The other team that they were playing against was Offaly.
Our Lady's Secondary School won by 3 goals, I think. 
From Laoise's Blog