Today's Maths question is simply a prediction or estimation task.
How many teddies are in the lunch box?
All children have seen the actual size and are aware that the teddies vary in size. Just a bit of fun!
20 mini judges will count these out tomorrow morning and we will get back to you with an answer!
Comment below to enter an estimate.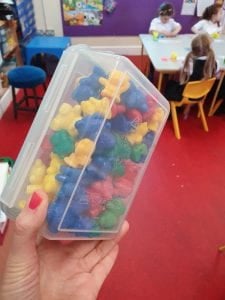 Well done to everyone who worked on yesterday's puzzle. It was a tricky one but we had 2 families with the correct answer which was 11weeks. The Rocket was half way to Mars at eleven weeks.
The 1st family with the correct answer was Aisling Cosgrove's family and in 2nd place Ray, Alex and Chris Coyle's family. Fair play to you all!
Correct answer or not , what is important is the discussion/arguments around the puzzle. Maths is all about language!!