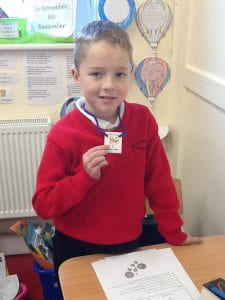 The boys and girls in Múinteoir Aoife's Classroom had super fun during Science Week November 8th-15th 2020″. During the week the children carried out lots of experiments, science themed crosswords and investigated some interesting scientists and scientific facts.
On Day one, the children made lava lamps using oil, water and food colouring.
On Day two, the children did the Volcano experiment with mentoes and Diet Coke outside of course!!
On Day three, the children watched and carried out a love webinar workshop based on 'Discover Your Tap Water' hosted by 'Science Foundation of Ireland' (SFI)
On Day four, the children had so much fun during the exciting Balloon Rocket experiment. This was the favourite experiment by the children and great fun was had.
A great week fulfilled Science Week was had. They are all super scientists in the making. Well done all especially our 'Sciemtist of the Week' Eva. So proud of you.