A little snapshot of the busy month of March. This month our topic as gaeilge was Éadaí. We are continuing to work on Aimsir Chaite and converting it to Aimsir Fháistineach (future tense). The children are working well with their léamh gaeilge and plenty practice at home will help this along too.
In Maths we worked on identifying Fractions, fraction and time word problems , Place value and Subtraction with regrouping . Knowing tables is a must when it comes to working on problems so again practice, practice, practice, as often and as informally as you can at home. In English, our focus in comprehension strategies was summarising, visualising, predictions  and scanning for evidence to back up answers.  For grammar we worked on compound words, synonyms, singular and plural and prefixes.
Written work is improving all the time so well done boys and girls. We celebrated World Book Day and enjoyed a buddy reading session with the little ones.
In SESE we learned about the continents of the world. Children partnered up and researched one continent and reported back to the rest of the class. We learned so much from each other and had a catchy continent song also to reinforce our learning.
We have planted a variety of seeds in school and already we see some of them flourish. We will continue to monitor the growth and transfer them outside in the next week, all going well.
Children learned about Chris Hasfield in History and also participated in a webinar with him. He also has some interesting videos on youtube showing how they do simple activities in space.  For Art the children enjoyed making their Mother's Day jewellry boxes and we practised lots of our Irish songs in music for Seachtain na Gaeilge. The children also practised keeping a beat to John Ryan Polka using a variety of instruments. Wellbeing week and Seachtain na Gaeilge were combined this year and it was so enjoyable getting together with the other classes to sing and dance once again. In PE our strand unit was Dance and Games. Children were given the same resources and in teams they had to create their own unique game with the resources. They then demonstrated and explained the rules of their games. They were AMAZING! In SPHE we learned about balancing the food we eat and making healthy choices . (The food pyramid)
The children in 2nd class celebrated their First Confession with Fr. Joe. today (April 1st). They were wonderful and we are certainly on the count down to their very special Communion day.😊
Keep up the great effort and support at home. D. Tyrrell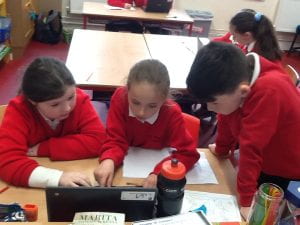 .