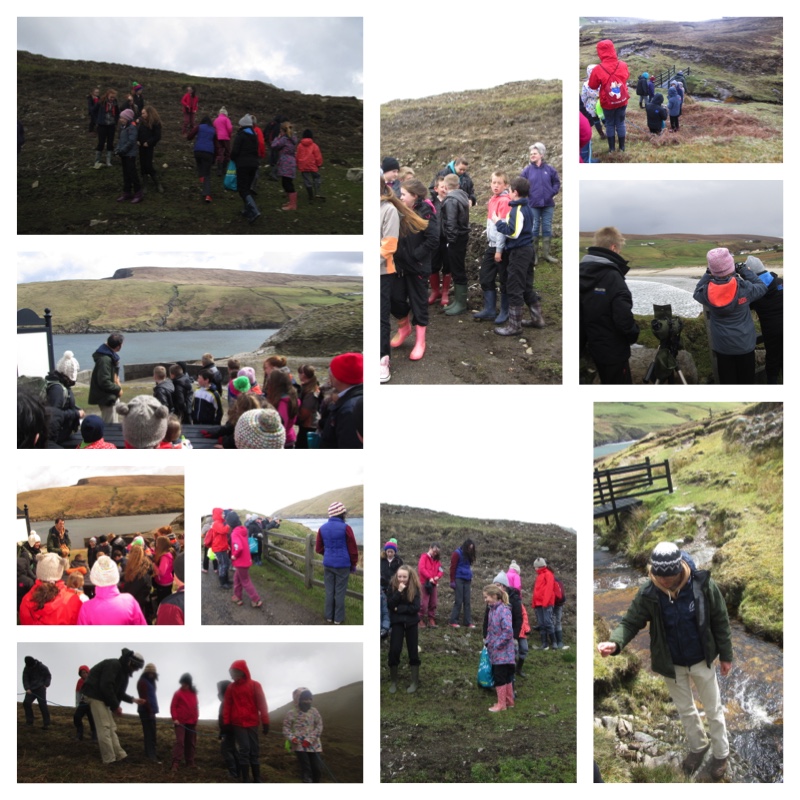 Today, the 29th of April 2015, 3rd, 4th, 5th and 6th class all went on a trip to Portacloy. We went on the trip because over the past year and a half we have been learning about a near extinct Irish bird called the Twite thanks to two bird watchers called Derek O' Loughlin and Susan O'Donaghue. We left to go to Portacloy around half past eleven or quarter to twelve. On our way there we picked up some classes from a local school, Glenamoy N.S.
Soon enough we arrived at the pier and cliffs in Portacloy. It was very cold and windy and every now and then it would make a rain shower but luckily we were all dressed for the weather and had warm coats and wellies on us. A little while later Susan and Derek arrived.
When they first came they started talking to us about the Twite and we found out some interesting things about the bird like how they only next in tall heather, how they eat small seeds from different plants like dandelion, sorrow (etc.) and how they never travel a long distance when trying to get food. Afterwards we were out into two groups. The first group went with Susan first and the second group went with Derek first. I was in the second group. Then the two groups went our separate ways.
We went with Derek over a small bridge to a place that had a river and lots of heather but before we looked at the river and the heather Derek asked Seamus to run up as far as he could with a blue rope and Roisín would hold the bottom of it. At school we had been doing a small project to do with the a Twite called a quatrat where we picked a certain spot behind our school that has lots of grass and plants and put a rope around it in a square shape. Then we would look very carefully at the inside of the square and look at what plants were inside of it and we would keep an account of it. This was something slightly simmilar and it was called a transcept. When the transcept rope was laid out Derek asked all of us to find a spot beside the rope and when we did that Derek found each of us a plant that we were standing beside. I had bracken. We then looked at the small river that was close to where we were and also looked at the surrounding moss and heather. Derek asked us why this would be a good place for a Twite to nest and we said it was a good place to nest because it had shelter from the water so that it would make it a bit harder for for other animals to get near the nest. We all walked over to where the others were with Susan and when we got to them our group went with Susan and the other group went with Derek.
When everyone was ready we walked up along with Susan so we could get a good view of the pier down below us. Susan then gave us all binoculars so we could see some of the birds which were on the sand. We spent a while looking through the binoculars and before we knew it, it was time to go! When we got on the bus we were all talking to the others from Glenamoy N.S when they had to soon get off because we had reached their school. When we reached our own school it was quarter to three and nearly home time! We all took off our wellies and changed back into our normal shoes and dug into some lunch since we were all so hungry from being out all day.
Overall it was a great day, despite the weather, and we have to thank Derek and Susan for bringing us on that very interesting trip to Portacloy to learn about the Twite. It was also great to meet up with the other children from Glenamoy and talk to them!
By Amy