Múinteoir Deborah

Please keep an eye on this page for class updates or notices. From time to time, I will update you on topics/themes we are covering in class and ways you can help your child at home.
If there is something in particular you would like advice on and you do not have time to stay and chat, I can help you out here by leaving an audio or a video. All queries will be dealt with anonymously but will help many please God.
Below are some ideas to help you reinforce your child's current word list. Repetition and fun are key to learning.
Word lists or Tricky words
Some ideas you can try out at home.
Reading time at home.
Reading and listening to stories is hugely important for every child, to develop both their oral (spoken) language skills and aural phonological awareness skills (their ability to hear sounds in words/break up words/recognise rhyming words and so on)
The benefits of regular, daily reading/listening to reading will later on translate also into your child's creative writing. But at first, one step at a time!
Predicting is an important skill when reading. Through questioning, at the start and throughout the story, you can illicit from your child what they think will happen in the story. You are all the time extending their language and encouraging a broader use of rich vocabulary.
Below are some ideas to try the next time you read with your child, whether it is a book from school or one you have at home.
After reading the story, you can check your child's comprehension (understanding) of the text. Why did Mum put on her coat? What did she buy in the shop? Why was she late? What would you have done if you were mum?
It is important that reading is a stress free time with you and your child. Have lots of fun!
Jolly Phonics♥
Junior Infants have just started their Jolly phonics programme. The programme is a child friendly approach to literacy. The children are taught 42 sounds in a specific order ( not alphabetically) and each sound has an action and short song to go with it. This enables the children to begin building words as soon as possible.
There are 5 skills taught throughout the programme.
They are : Letter sounds including digraphs such as sh, ai, th, …
Letter formation – It is very important that children start in correct spot. This may be different to how you learned how to write. Tracing letters in sand, sugar, on sandpaper, on someone's back and  in shaving foam are great ways to reinforce the formation.
Blending– Children will gradually learn to push the sounds they learn together to hear/make and write  words.
Identifying sounds in words -Listening to sounds in words gives children the best start  for improving spelling.
Tricky words – Tricky words cannot be sounded out and that is why they are tricky! So these words need to be learned separately just by looking at them. Games to help this are mentioned above.
There are many Youtube clips to help you at home with formation and sounds. There are also wonderful Jolly Phonics apps available at a small cost. I am not saying to purchase them but I am just making you aware they are available.
In school we will learn these sounds in a multi sensory way and each sound is revised every time we move on to a new sound. It is lots of fun and I hope you have fun at home too!
Group 1 songs
Below is a fun activity to help with articulation/pronunciation.
Below are some links to some wonderful games which help with many areas of Maths.

Each week in school, we reinforce the skills of counting, number recognition, sequencing, ordering, comparing and much more. It would be beneficial to your child to also reinforce these on a regular basis at home. 10 or 15 mins. a day, a few times a week, would make a huge difference. Please remember to monitor your child's use of technology for safety reasons.

https://www.topmarks.co.uk/learning-to-count/gingerbread-man-game

https://www.topmarks.co.uk/learning-to-count/teddy-numbers
March 12th Notice
In light of the recent announcement, the following are some activities your child can complete while school is closed.
Junior Infants : Reading Zone book Pg 28-40 (no more than 2 pages a day. Clear explanation must be given and guidance with reading and writing. Encourage your child to write slowly with curls, the jolly phonics way and ensure they know what they are reading and writing. No rushed work.)
Senior Infants; Reading Zone book pg 24 – 43 (no more than 3 pages a day. Clear explanation must be given and guidance with reading and writing. Encourage your child to write slowly with curls, the jolly phonics way and ensure they know what they are reading and writing. No rushed work.) Go over tricky words on sheet also.
All children have 3 reading books in their mála. Again 3 or 4 pages a day.
Continue with Homework Calendar for March
Below are websites to keep your child on track in relation to reading and Maths also and are lots of fun.
www.topmarks.co.uk    Lovely free activities, particularly handy for Maths topics.
www.oxfordowl.co.uk    It is a free reading site and has many of the oxford reading tree books we use at school. Just select the correct age category.
Most of all have fun, play outside and enjoy the time together. Keep Safe!
Múinteoir Deborah
REVISION Of SOUNDS
The songs below will help the children recall sounds learned in Jolly phonics.
MOVING ON
I hope you are all well. Just a little note to say that I will be adding  a little Jolly phonics lesson(like the one below) every few days for anyone who wishes to dip into it. I have also added a link to some free resources from twinkl.ie that you may find handy for rainy days. Again, if your child never did any of this ,nobody will know anyways, and they will be fine!! It's your call. There is no pressure at all. If anybody has any questions, feel free to email me at inverns@outlook.ie.
IMPORTANT
Do not get bogged down on replicating school at home. Your kids will be fine! |You are and will always be your child's primary educator. Every child in the country is in the same boat, and just as before this crisis hit, we will see and meet your child where they are, upon our return. Do what works for you and your household.  A little will go a long way, and if its causing you or your child stress then leave it and come back another day. The important thing right now is that you, like me and every other family, give themselves time to adjust to this new experience. Support each other through this difficult time.  Have lots of fun at home. Play, watch movies, get mucky outside, snuggle up and read a story together, dance to music, make up dances, sit and watch the ocean, read, keep a little family diary…but whatever you do, don't worry about your child regressing. They will be fine! Look after yourselves and keep safe!
Múinteoir Deborah
Free Resource bank 
Click link below to access packs to aid with distance learning, enter your email address, create a password and enter the code IRLTWINKLHELPS.  You can then access/download all School Closure Packs from twinkl.ie!
Below are the songs and below again are blending activities.(Lovely accent however feel free to mute and ask child to blend themselves.)
A nice tricky word song for list 1
March 24th 
I hope you are all keeping busy and having fun! Below are a couple of lessons you can try out over the next few days. I will post some Maths games ideas, another phonics lesson and a little story on Friday morning. Remember its all about learning through play. So proud of you all! Feel free to take a pic of any activity and send to inverns@outlook.ie. I would love to see your hard work! Please also indicate in email if you give permission for me to post your photo on the blog at a later date for your friends to see you at work. No pressure! Stay Safe,
Múinteoir Deborah. x
Phonics
Let's get counting. Something the whole family can do together!
Afterwards, please practice skip counting aloud using your 1c, 2c, 5c and 10c coins. Can you make various amounts such as 5c, 8c, 10c . How many ways are there to make these amounts? Don't forget to wash your hands thoroughly after!
Science – Friction
Watch these videos.
Think of all the friction you experience throughout the day! Try out some of the experiments at home! Plenty opportunity for great discussions.
Can you draw a picture of a time where friction is working? Label your picture!
Get moving Together!
This guy is doing a workout a day so check him out on youtube! Something for all the family.
We are an Active School;-) Have fun!!!
MARCH 27th
Have your pencil and paper ready!!
Junior & Senior Infants
Storytime
A little story for us all to enjoy!
After the story, can you tell what the setting is?
Who are the main characters?
Can you retell the story in your own words? These words will help!   First……Then….after that…..In the end/Finally.
Can you make any connections with the story and your life?
If you met the Author, what question would you ask him?
Maybe you would like to draw and label your favourite part.
Simple Maths using Cards.
* I say letter formation at end of video. I meant to say number formation. However practice of both is encouraged:-)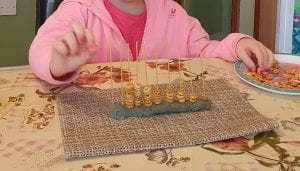 March 30th – April 3rd
Ideas for the week. More phonics/Maths will be added throughout week. 
Science – Light and Shadows
After watching the above video clip, I would like you to find items around your own home with an adult.
Activity 1 Sort items into sets of Transparent, Opaque and Translucent.
Then, in a space that has good light, explore the shadows your chosen items make.
What happens when  you bring your object closer to/further away from the light source?
If day is dull and you have a torch, explore using that instead.
Activity 2  Try making some shadows with your body/hands? Ask someone to trace around your shadow outside with chalk. (You will need a bright sunny day for this…fingers crossed)
If you return to that same spot 2 hours later, is your shadow in the same place or has it moved? Why do you think this is? Lots of opportunity for questioning, discussion and exploration. Have fun!
Art
Construction  and Printing
Try to make something connected to Easter using recyclable materials you have around your home such as egg cartons, toilet roll inserts, bottles, cartons. If you have paints, you can also explore printing, using 3d objects such as the above mentioned materials also.
If using paint, explore mixing colours. What did you discover today?
P.E. 
Warm up – Musical statues using any music or one of your favourites like the bongo song!
Ball skills
– Pass ball around body, one way then the other.
– Pass ball in and out between legs without dropping.
Throw ball up gently, catch 2 hands.
Can you throw higher? Keep eyes on ball
Now throw ball up, clap hands once before catch. Or throw ball up and spin around on spot before catching.
Partner work
Practice bounce pass to partner.
Then move on to throwing without bouncing to partner. Call your partners name before throwing.
Finally move on to kick pass. Kick with side of foot and when ball is returned back to you, stop it with the base of your foot.
Cool down – Mirror image whatever slow movement your partner does, you copy. Reverse roles after 2 minutes.
Remember to get plenty of exercise every day and tune in to Joe Wicks on YouTube or try out this one – PE as Gaeilge
 Development – Can you and your family create a new game using a ball? Think outside the box!
 Reading, Writing and Tricky words!
I hope everyone is enjoying a story or 2 each day.
Perhaps you could write your own story ( 1 or 2 sentences per page)and draw illustrations for each page.
Before you start, think of a character, a setting, a problem and a solution.
Once you have this done, off you go! You could do a bit each day.  It might take a whole week to complete a story and that's ok!When complete,  design a book cover for your story! You are all little blossoming authors!
Tricky words 
Keep revising those tricky words . The only way to learn them is through repeated exposure .( See also ideas of ways to practice tricky words near top of this page – audios)
Start with set1. When you know them all move to next set and so on. This will take time so slow and steady wins the race.
Practice writing some of them if you want to challenge yourself . Ask an adult or older brother or sister to call some words from your tricky word sheet.
Please go over as often as you possibly can.
MATHS
https://www.topmarks.co.uk/learning-to-count/helicopter-rescue
After finding numbers (red section) move on to the count on and back section(blue). It is important that children familiarise themselves with the language associated with Maths.
Children can also revise their money using both of these games.
https://www.topmarks.co.uk/money/coins-game
https://www.topmarks.co.uk/money/toy-shop-money
Please ensure you select EU flag to access euro coin version.
Thursday 2nd April
Hello again everyone. First of all belated Happy Birthday's to Eileen, Róna, Rhys and Feagan who all celebrated their birthday recently. I hope you all had a great day with lots of fun and treats! To all my other chickens, I know you have been working very hard , having lots of fun and helping around the house. Keep up the great work.
I can see all the boys and girls who have logged in to https://ie.ixl.com
Each one of you are doing so well with your Maths and English activities that I have assigned.. If you see a yellow star in your section , it means muinteoir would like you to practice that area for a few mins every day over the next week. I will change the stars after I see your progress. I get to see how well you do on my computer and how clever you all are…then I will assign you more areas to practice.  If you are in Junior Infants, please check  A  and B levels for yellow stars. If you are in Senior Infants please check from A, B and C for yellow stars. You might be working on different areas to your friends and thats Ok. Everyone is different and we all have different areas to work on. That's what makes us unique and special. Feel free to explore other areas after completing assigned work.
(If you still have not received your unique code for ixl, please email me at school address)
Gaeilge
We cannot forget about our Gaeilge while we stay at home so I have compiled a few activities for you to practice.
Don't be afraid to throw in the odd Engish word as well throughout activities as long as effort to speak Gaeilge is made!
Cluiche 1
Fiche Cheist (or 20 questions in Irish)
Riallacha
Person A writes or draws an object/animal or thing on sheet or mini whiteboard. (if you have headbanz game at home, use the cards) Rest of household ask a question as Gaeilge. See sample questions below.
Person A can only answer
Tá. (yes)
Níl. (no)
Is deacair a rá. (It's difficult to say).
Uaireannta. (sometimes)
Beagnach (almost)
Tá sé reasunta fuar, etc. (It's reasonably cold, etc.)
Family have 20 questions to figure out what person drew . The fun part is you might have to dramatize or act out the question, so they understand what you are asking.
You could make a competition out of it, by having person B and C compete to figure it out first , alternating who asks questions.
Sample questions
An bhfuil sé   –Is it ___
 beo? (alive)  Always a good one to start with!!!!
fuar? (cold) te? (hot) fliuch? (wet) tirim? (dry) dorcha? (dark) geal? (bright) bán? (white) dubh? (black) dearg? (red) gorm? (blue) buí? (yellow)
bog? (soft)crua? (hard) glan? (clean) salach? (dirty) milis? (sweet) mór? (big) beag? (small) ard (tall) sean (old) nua (new ) óg (young)
 An bhfuil sé —-Is it
níos mó ná (bigger than) chomh beag le (as small as)  níos lú ná (smaller than)…….
 An bhfuil sé  déanta as –Is it made out of?
adhmad? (made of wood) miotal (metal) eadach (cloth) gloine (glass)

An bhfuil sé sa –Is it in the
seomra ranga? (in the classroom) sa teach(in the house) Amuigh (outside) Sa chistin (in the kitchen ) Sa seomra suí (sitting room) sa gháirdín (in the garden) Ar an fheirm ( on the farm) Sa Zú (in the zoo)
An ____é? Is it a ____
cóta (a coat) clog (a clock) leabhar (a book) pictiúr (a picture) páipéar (a paper, newspaper) bord (a table) buidéal (a bottle) forc (a fork) cupán (a cup) bía (food) mála (a bag) peann (a pen) fón (a phone) bosca (a box) scáthán(a mirror) fáinne (a ring) scian (a knife) spúnóg (a spoon) deoch (a drink) cathaoir (a chair) fuinneoig (a window) bróg (a shoe) bó (a cow)
Cluiche 2
Guess who/ Cé tusa?     (if you have game in house or if not, perhaps you have an array of figurines/toy characters)
Guess who is a great way to get the children to use the language based around hair colour, eye colour etc. A little pre teaching of the questions beforehand is all that is needed or you can point to objects around house or yourselves when asking to aid understanding.
Here are some ideas of questions:
An cailín í? Is it a girl?
An buachaill é?Is it a boy?
An bhfuil gruaig ________ air/uirthi?  (donn, dubh, fionn, rua, fada, gear, catach)
Do they have ______hair?  (brown, black, fair, red , long, short, curly)
An bhfuil sé maol? Is he bald?
An bhfuil hata air / uirthi? Does he/she have a hat?
An bhfuil speaclai air/uirthi? Does he she have glasses?
An bhfuil súile _________ aige/aici? (donn, gorm, glas, hazel)
Does he /she have _____eyes? (brown, blue, green, hazel)
Below is a snippet of me using a Gaeilge interactive game site I stumbled upon, designed for 1st class upwards but EC1 could certainly be trialled for Infant level. Apologies as it is a northern accent and different canúint but these resources for Gaeilge are few and far between and its a nice one. Can be played on Phone or tablet.
Link below  video
Link for Junior Infants to Second Class
http://www.nicurriculum.org.uk/snas_ar_sceal/cluichi-ec1/
ENGLISH
A game that we have been enjoying in our house is an old one but a good one. It is called Stop the Bus or as we always called it 'Boy Girl'. Below is a sample of a sheet but you get to design your own at home. All you need is pen and paper .Usually we use the categories Boy (name), Girl (name) animal , food, drink, colour, place , clothes , object. The great thing is you can make it as simple or as challenging as you want. Little ones can partner with an older person if they find it too difficult on their own but I would definitely give them a chance on their own and perhaps set a time to the round eg 3mins rather than someone calling stop the bus. Build up confidence that way.
It is a great game for categorisation, slightly addictive and so much fun for all the family.
Rules -One person says the alphabet with inner voice, someone says stop and whatever letter the person stopped on is the letter for that round. Everyone then has to write down something starting with that letter in each  category . Whoever completes all categories first shouts 'Stop the bus 12345678910′ . (Or as I mentioned above, set a time on the round)
You then call out all your answers in turns. 10 points for all correct answers, only 5 if someone has same answer as you, 20 if you are the only one to get an answer in a particular category.  We' ve been having so much fun with this game in our house and I hope you will too!