What a successful week we had and so much fun!
Well done to all the children for their participation and to the parents also for the help and participation.
From yoga to Jiving to Netball, there was something for everybody.
Our new activity this year was the Jiving with Sandra Ganly, which went down a treat. We also had our community Walk a mile with a smile and thankfully the sun stayed out for us.
Timetable 2019
 

Tuesday 4th

 

Wednesday 5th

 

Thursday 6th

 

Friday 7th

 

Monday 10th

Wake Up Shake Up Exercise Break

9.45 -10.45

Soccer Blitz (pitch)

Unihoc game (front)

Wake Up Shake Up Exercise Break

9.30- 10.15

Jiving Juniors –Group 1

Unihoc skills – Group 2

10-10.45

Soccer

 

Wake Up Shake Up Exercise Break

9.45 – 11.00

Sports Races with Parent Volunteers

*sprints

Potato and Spoon

Sack Race

Relay

Island hopping

Parent Sprint

Parent 2 lap

Wake Up Shake Up Exercise Break

 

10 -10.45 am

Cooperative Games  with Barbara

Circuits

Wake Up Shake Up Exercise Break

 

9.40am -10.40am

Gymnastics

10.45 -11.45am

Gymnastics

12 noon

Presentation

–      Medals for participation

–      Certs for Swimming

–      Sports boy/girl of year

11.20am – 12.20

Yard games

Lions Den/ 4 Corners /Stuck in mud /Bib Tag/Duck duck goose

Yoga group 1 in hall

Group 2 '21' Basketball

11.15 -12.15

Dodgeball

Jiving Juniors

12.20

Wholeschool Jive in hall

11.15-11.45

Parent netball with 5th & 6th

*Medals on Day

11.50 -12.20

Wholeschool Céilí/Waltz

11.15.- 11.50am

GAA Skills with James

Netball

11.50 -12.25

Basketball skills

GAA skills with James

1 -2pm

Circuits

Yoga Group 2 in hall

Group 1 '21'  Basketball

2.15 – 2.55pm

Rounders (1st -6th)

1-2pm

Penalties against the teachers

2.10 – 2.50pm

Sports Quiz

(1st -6th)

1.15 –

Wholeschool Walk

Walk a mile with a smile

1:10 – 1:50

Dance in class

Basketball Game

1:50 – 2.40

Dance in class – Macarena/cha cha slide/pupil choice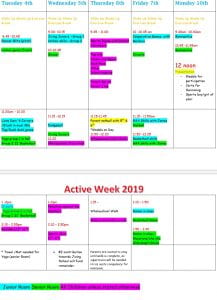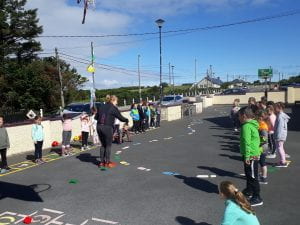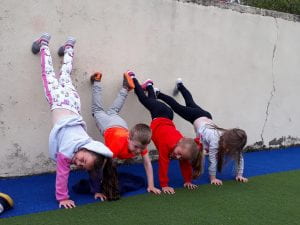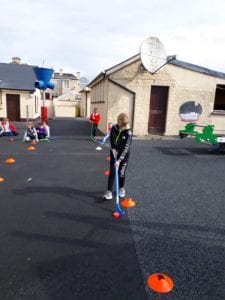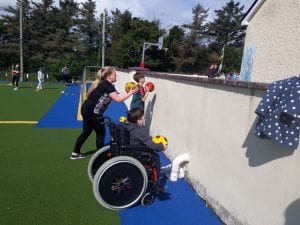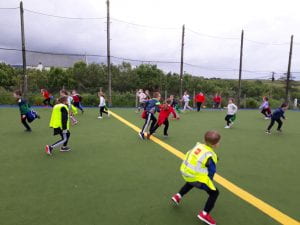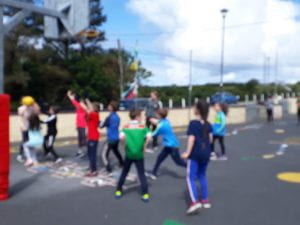 Walk a mile with a smile . Well done everyone! @ActiveFlag pic.twitter.com/BBjczSXgSZ

— Inver N.S. (@inver_n) June 11, 2019
Coming at you…Parent Sprint! Well done! Great example! @ActiveFlag pic.twitter.com/x4mAg8KQxI

— Inver N.S. (@inver_n) June 11, 2019
Walk a mile with a smile. Parent Netball game.Sports day #somuchfun @ActiveFlag pic.twitter.com/LXoEIbiD5B

— Inver N.S. (@inver_n) June 11, 2019
Yoga for the senior room.#Errisyoga Thank you to Laura for a great workshop.@ActiveFlag Whole school dance/Presentations. Well done to all! pic.twitter.com/gq31UzEM8B

— Inver N.S. (@inver_n) June 10, 2019
Great fun with Sandra #Jivingjuniors #ASW @ActiveFlag pic.twitter.com/1vG9CKRcU3

— Inver N.S. (@inver_n) June 5, 2019
Rounders #ASW RUUUUUUUNNN! pic.twitter.com/ayeVcN2ieO

— Inver N.S. (@inver_n) June 4, 2019
Active Home Week 2020
This week would have been our Active school week (and is also National Active schools week) and while we as a staff are gutted not to  be celebrating with you all, we know that what we are doing, staying apart, is much more of a priority right now…and you are all having heaps of fun and activity at home too!
We look forward to doing the activities we had planned for this week another time. Activities such as Tug o war competitions with Tug of war Ireland, visit to Kilcommon gym with workout, rowing with the rowing club, aerobics with Barbara and of course parent netball game amongst many more.
However, there is no reason we cannot all stay fit and healthy and sweat it out in our own nests to mark this special week and share our photos with each other.
For Active Home Week, we ask everyone to complete 4 activities a day which will culminate in at least 60.mins a day exercise. So this can be anything from a game of soccer, frisbee, hula hooping, joe wicks workout, cosmic yoga, toys in a box tidy up races (love that one for the end of the day), walking, dancing..the list is endless. See  picture below  for more ideas.
We would love to share your great effort and engagement on our blog so please don't be shy in sending in those pics.
If you would like to complete a grid such as one below, we can email you one if you wish and you can return at end of week. (Or you can draw up your own..no pressure)
Keep up the fantastic effort at home. You are amazing!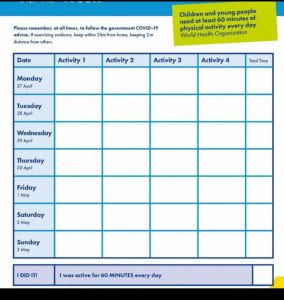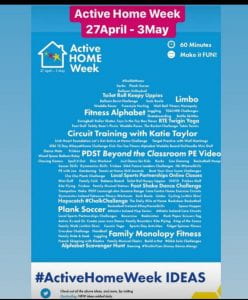 Well done to everyone for the phenomenal effort you made during your very first (and hopefully last) Active Home Week. We are all blown away by the variety of activities you managed to squeeze in and to be honest we are all a little bit jealous we were not doing them too! You are as fit as fiddles and great little advertisements for staying fit and having fun!
Take a look at the photos and see how many friends you recognise!!
Keep up the great effort .
A healthy heart and body = A healthy Mind
Below is a poem that Erin wrote about Active home Week. Fantastic Erin! We miss school too!
Here are some additional photos from AHW. What a fabulous place we live. Farm work , the bog, bouncing castles,  construction ,  cycling,  country  walks and beach walks! Beautiful!