Once upon a time lived a beautiful woman called Mary and her husband Joseph. They lived in a small town called Nazareth.
One day Mary was sweeping the floor and suddenly an angel appeared and told her she was going to have a baby: "It will be God's special King and you will call it Jesus."
Caesar Augustus had ordered everyone to sign their name on the book, in the place where they were born, so that he would know how many people were living in his land.
Mary and Joseph had to travel to Bethlehem and sign their names on the census. Mary couldn't walk that distance so they brought a donkey.
Meanwhile the three wise kings had seen the most beautiful, brightest star in the sky and they were following it.
An angel also told the shepherds that there was going to be a special baby born in a stable.
When Mary and Joseph got to Bethlehem it was awfully busy and there was nowhere to stay! Mary and Joseph tried loads places but everywhere was fully booked … until they found an inn and thought it would be quiet. The innkeper and his wife told them there absolutely no more room and Mary told them that she was having a baby.
The innkeeper told Mary and Joseph that there was a stable they could borrow for the night. Mary and Joseph were so pleased. That very night Mary had God's special King.
The shepherds got to the stable and they were all amazed to see Jesus lying in a manger. When the kings followed the star, they ended up in the stable, too. The three kings brought three gifts , gold frankincense and myrrh.
By Abby (from Abby's blog)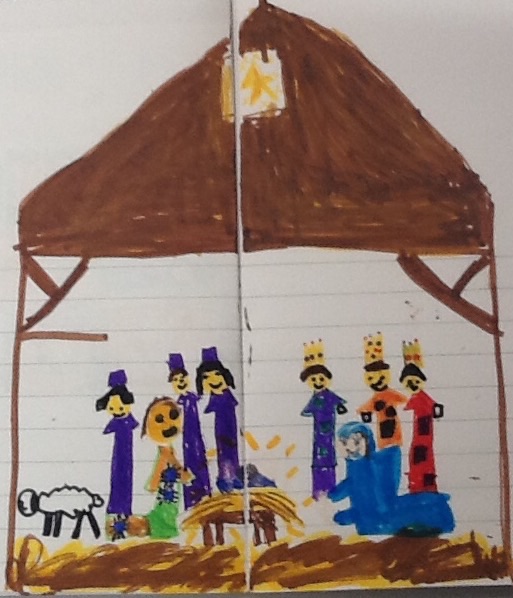 It all happened when a woman called Mary was sweeping the floor and then out of nowhere an angel from above came down and told her that she was going to have a baby and his name would be Jesus. Mary and Joseph had to go to Bethlehem to sign the Census. When they reached Bethlehem, Mary and Joseph signed the Census and went to an Inn.
There was no room at the Inn but the Innkeeper said to Mary and Joseph that they could use his stable for a night. Later that night, the Baby Jesus was born. Then when Mary bent down to settle her baby, Joseph could see some kings in the distance. Then the shepherds and the Kings came and so did the Angels. Everyone was really excited for the birth of the baby Jesus.
There once was a woman named Mary. Mary lived in Nazareth and was engaged to a carpenter named Joseph. One day Mary was baking when an angel appeared in front of her. Mary couldn't believe what she was seeing. The angel told Mary that she was going to have a baby boy named Jesus and he would be the son of God. Mary was shocked with the news she had just got but she did exactly what the angel told her.
At this time Ceasar Augustus was the emperor and wanted all the people to travel to Bethlehem to get there name in the census book so he could see how many people were In the country. So Mary and Joseph started to make there way to Bethleham to get there names in the census even though Mary was pregnant. Joseph walked all the way and Mary travelled on the donkey.
When they finally arrived at Bethleham there were a lot of people there! After they got their names in the book they went to find an inn that they could stay in but they couldn't find one anywhere. Just when they were about to give up a generous woman offered Mary and Joseph a stable beside the house because all there rooms were booked. Mary and Joseph were delighted even though there was lots of animals in the stable.
While this was all happening some shepherds and wise men had heard of the terrific news of the baby Jesus and needed to find the stable that Jesus would be born in that very night.
Sure enough high in the sky a star shone brighter than any other star in the sky and these people knew that this would lead them to the baby Jesus. They followed the star and it brought them to the very stable where baby Jesus lay.
When they walked in, there, lay the baby Jesus in a manger.
So Christmas isn't all about presents and gifts, we've got to remember Jesus and what he scarified or us!