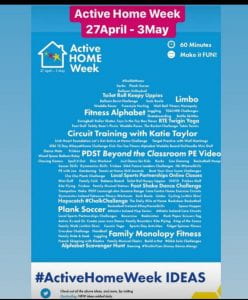 This week would have been our Active school week (and is also National Active Schools Week) and while we as a staff are gutted not to be celebrating with you all, we know that what we are doing, staying apart, is much more of a priority right now…and we know you are having heaps of fun and activity at home too!
We look forward to doing the activities we had planned for this week another time. Activities such as Tug o war competitions with Tug of war Ireland, visit to Kilcommon gym with workout, rowing with the rowing club, aerobics with Barbara and of course parent netball game amongst many more activities.
However, there is no reason we cannot all stay fit and healthy and sweat it out in our own nests to mark this special week and share our photos with each other.
For Active Home Week, we ask everyone to complete 4 activities a day which will culminate in at least 60mins a day exercise. So this can be anything from a game of soccer, frisbee, hula hooping, joe wicks workout, cosmic yoga, toys in a box tidy up races (love that one for the end of the day), walking, dancing..the list is endless. See above picture for more ideas.
We would love to share your great effort and engagement on our blog so please don't be shy in sending in those pics to our school email address by the end of the week for us to display for everyone to see. Did you know our blog is visited by people from all over the world?!!!
If you would like to complete a grid such as one below, we can email you one if you wish and you can return it be email at end of week. (Or you can draw up your own..no pressure)
Keep up the fantastic effort at home. You are amazing! D. Tyrrell