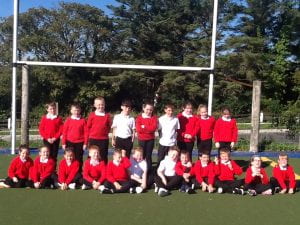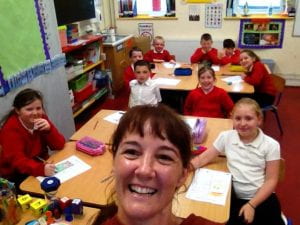 The past month has flown by so quickly! The children have settled in so well and we are slowly getting back into the routine of school life.
In English we have been focusing on basic sentence structure and taking the time to present our work carefully. We have been reading lots and working on expression and pace whilst reading aloud. Children have also being silent reading and Buddy reading with partners, as well as listening and responding to our class novel for this term, The Yuckee Prince. The children seem to really enjoy the novel and sharing their connections and predictions with their peers. Children have received a book from the classroom library which can be used for personal or shared reading at home and returned at a time that suits the child. This is simply reading for pleasure. Our writing genre is Recount and we will continue with this next month also. Our Irish topic has been Mé Féin and much of the work we have done is based around comhrá about ourselves, simple interactive games based on the topic and our poems of course too. Regular revision of our poems and dánta will benefit the children hugely.
Maths focus for the month has been Addition and Subtraction, Place value, Rounding and mental maths calculations. Children again will benefit so much from having their tables revised and practised on a regular basis through fun games such as playing cards/in the bank.
In SESE we learned about Fionn and the Fianna, People at work -Occupations and Myself (Sleep). Drama has been a combination of Mime and Freeze framing and as always lots of fun!  In SPHE our topic was Myself and self awareness, where children have discussed their strengths and qualities that make them unique. PE strand this month has been games with a focus on the fundamental movement skill of throwing /catching. We have learned our Irish song Dilín O Deamhas and as part of our lá gaelach children sang traditional Irish songs and took part in a fun Tráth na gCeist. (Quiz) We also played Fiche cheist (20 questions) which was lots of fun!
Below are some photos from the month.