This week we've getting ready for our school concert. We're practising like crazy. I'm so excited but nervous at the same time. We've started going down to the church. I know what my costume looks like because I wore it last year as well.
I'm a star again. I know all my lines off by heart, I know them so well I'll forget them soon. I know everyone elses as well as my own. Everyone's playing music at the start. There is melodicas, tinwhistle, beat box, bells, chime bars and acordian. I'm playing the acordian Amy's playing playing the beat box. Caolan used to play the bass guitar but he didn't like it that much.
Me, Grace, Sophie and Shauna are stars. I swapped with Rosaleen because I didn't want to be an angel. I don't really like the costumes, Lisa said they're pure tight and itchy. The shepherds ones are nice to and so are the kings. I like Mary's as well and Joseph's too.
Well I hope it all goes well. And I don't make any mistakes. And I hope that nobody is putting us off at the back of the church!
                                                                                                                                                   By Ailish!
 
We are doing our Christmas play on 20/12/12 we are practising for it.
Today we practised. I was dressed in an angel costume It is nice but they are a bit to big.
Shauna is a star and Sophie is one Ailish is one and Grace is one to.
I can't wait till we do the play. We are also doing our music. We are doing lots of songs.
The End
By Orla. 🙂
Ag cleachtadh do ceolchoirm na Nollag from SN an Inbhir on Vimeo.
We are practising for our Christmas concert. It is going to be on the 20th. I am really exited and nervous.
3rd, 4th, 5th and 6th class all have a part in the play. I am an angel. Orla, Lisa, Amy and Rosaleen are angels too.
Sophie, Shauna, Grace and Ailish are stars and there are lots more characters.
I am looking forward to our play. I hope it goes well and I hope our audiance likes us.
The End By Ava
This Thursday we are going to have our Christmas play. It's going to be great. I can't wait.
I'm going to be a angel. I'm also going to singing a duet with Grace. I hope everything goes well.
I can't wait for Thursday.It will be amazing because our teachers are pushing us so hard, but we don't mind as most of us need the practice.
BY LISA!!!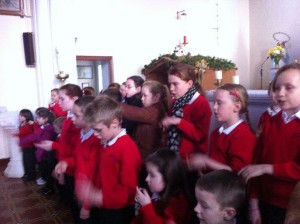 On Thursday the 2Oth we have a Christmas play. I'm an angel, my brother is a shepherd and my sister is a angel as well.
We have to practise every day. I have a good bit to say. Ava, Orla, Amy and Lisa are angels. They have to say a good bit too.
My friend is a star. She has to wear a gold hat. It is going to be great. I am looking forward to it.
By Rosaleen