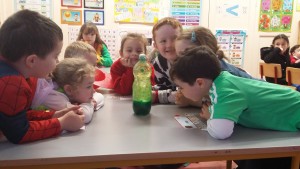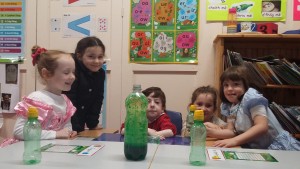 For science week my class did the dancing raisins experiment .First we got a cup of water. Then we put the raisins in the water and then we looked. They had sank. Then we got a cup of 7up. We put the raisins in . The raisins went up and down. This happened because the co2 was trying to escape .
We did a candle needs oxygen experiment. We got a candle. Then we lit the candle and we put a glass cup over the candle.The candle went out . Then we put the cup over the candle when the candle nearly went out we took it away quickly.The candle lit again because the oxygen was allowed in again.
We made lava lamps too. We got a bottle.Then we added water.Then we added oil. Then we add food colouring. Then we add Alkaselter tablets . This produced Co 2 which caused bubbles to rise up and down in the bottle. It was cool.
By Lucy