(Part of our work on our Learning Circles Project 2017)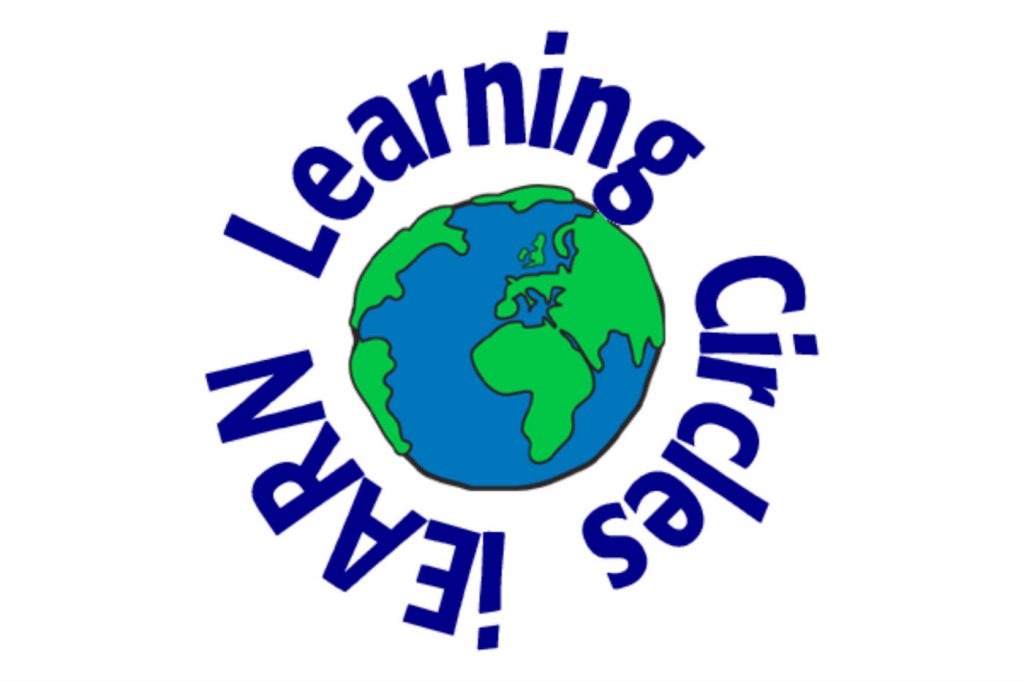 My favourite place in Ireland is my new house which is is being built at the moment.
I know it will make me safe. It is a big house and it has upstairs. It won't be down a big road.
My brothers and I will sleep upstairs and my mom and dad will be downstairs. It will have a bridge crossing to my farm at the bottom of the field.
The view will be really really good. My room will be the warmest in the house because the chimney is coming up through the wall of my bedroom. There are four bedrooms in the house. There is a spare room downstairs beside my mom and dad's room. We will be moving into the house in 7 to 8 months.
My new house will not be far from my school in Inver, Co. Mayo

By Kyle
oooOOOooo
My favourite place is my sitting room. A sitting room is a place where you have a television and comfy seats and sofas. My sitting room has two green single chairs and one long sofa with flowers on them and a television. This is my favourite place because it is very relaxing and cosy. My 2nd favourite place is my bedroom. My bedroom has has a big bed which I have to share with my sister. It has purple walls and blue curtains. My 3rd favourite place is my back garden where I can play with my dog Toby and my cat Fluffy . Me and my dog play lots of games like catch and football. Me and my cat play football too. They are my favourite places.
oooOOOooo
My favourite place is at a soccer pitch. I don't mind what soccer pitch it is, it  just it give me a nice feeling.
Our nearest soccer pitch is in Bangor and I play for them. We came very close to winning the league. It is a good distance away from our school. It is a lovely pitch and it is in the west coast of Mayo. There's a lovely river beside it. Bangor Hibs is the name of my team and it has an all weather pitch which means it's very good in the rain.
oooOOOooo
My Favourite Place

A lot of people have a lot of different favourite places, many people chose football clubs, their houses, gardens and places they feel safe.
For me, theres only one place that I could possibly choose, of course…

I pondered over the idea of places I holidayed in, Dublin, Kerry and even Scotland!

Then I realised the place. The only place I could ever choose as my no1….

My place is located in a rural area. Its in front of the sea where you hear the crashing waves as a wake-up call every morning. Its surrounded by fields and neighbouring houses, sheep and (those 2 cute donkeys and a horse over the road)

The place I chose was my kitchen. In my kitchen I have a dining table in the middle and a tv with chairs in the corner.
The kitchen has a fireplace near the tv and a green marble (I think its marble !!) counter-top for cooking and baking.

My kitchen is a place in which christmases were spent with my family and friends, meals shared with the people I love and care about.

I remember Christmasses where we had meals at the table and a long spread of food Turkey, ham, rice, chicken along with many others which names do not come to mind .
I love my kitchen
This is my favourite place.

By Siobhán
oooOOOooo
My favourite place is my school.
I think my school is a really nice school and that everyone is really nice.
The teachers are really nice and they are always there when you need them that's why they are the nicest people. One of our teachers will be going for a little while because she is going to have a baby soon but will be back soon. Everyone will miss her when she goes.❤️
All the students in our school are really nice and funny. There are only 2 children in my class but there are a total of 35 in the whole school.
I live only up the road from our school so we don't really have to go far. Right now we have four green flags. Green flags are awards we get so as to encourage us to care for the environment and to keep it clean. We are working on our fifth one. The flag we are working on is called Biodiversity. Green flags are every important. We always try to keep our school tidy and clean for everyone.
Our school is really nice and that's why I wrote about it.😆✌️
By Róisín


oooOOOooo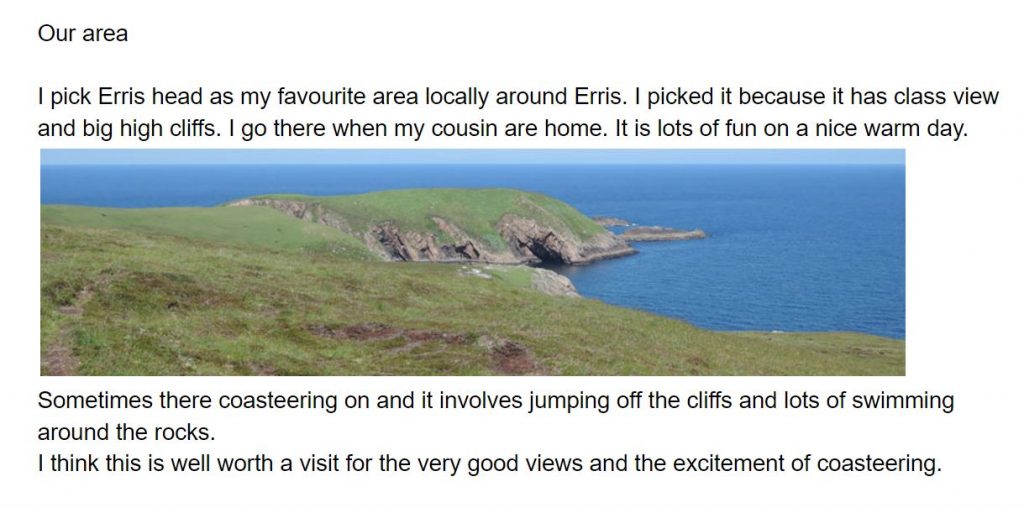 oooOOOOooo My Favourite place
Hi my name is Ava. My favourite place is Ballina IMC cinema.
I like it because you can see lots of movies and eat lots of popcorn.
Last weekend I went to see Beauty and the Beast. They have really nice cosy seats there too. At the counter they sell all kind of sweets candy floss and popcorn and sweets and you can buy these before you go in.
oooOOOooo
My favourite place
My favourite place in Ireland is Croke Park in Dublin.
It is my favourite place because it is a stadium for every quarter final semi final and final.
The last time a final was played in it was 6th of October 2016 that was Mayo vs Dublin. It was a replay. the score in the first game was 2-16 2-16 and the second game was 2-17 2-18 to Dublin and the first time mayo should've won because one of the Mayo players were fowled right in front of the goal and mayo would've scored a point
and the lines man said to the ref don't give Mayo a free because they will win it. The next time we go up we will be bringing Sam to the west💚❤️🏐