Last week, a person named Mary Curran came to our school. Mary did a music workshop with us. There were lots of instruments like the French horn and a big bongo kinda thing. Also there were shakers and cling things. There were all the instruments.
We also had to shout our names out really loudly at first but then we had to be as quiet as a mouse.
It was a good day at our school.
In fact, it was the best day yet at the school.
By Jack
Mary Curan came to my school last week. First thing we talked about was volume. Volume means to get louder and quieter. For instance if you turned it up the volume, the sound got louder and if you turned it down it got quieter.
Secondly, she did an exercise where we were like a volume button. When she pointed to us we shouted our names but only if you were near the top of the line and as we got nearer to the bottom of the line we got quieter and quieter, I liked doing that it was fun!
Next we got lots of different instruments and we did a nice tune.
Last we just played around with the instruments, then we did another tune it was fun!
I hope Mary comes again soon!
By Siobhán
Today a lady called Mary Curran came into our school to do a music workshop with us. First junior infants to 2nd class went in till fist break then we went in.
First we copied everything Mary did. Then she told us about volume. Next, she showed us some instruments and she showed us the French horn. She got a tube the length of 20 tin whistles and made music from it. Then she gave us an instrument each and put us in groups. We did beats with them and then we changed instruments.
When we finished my class helped her put her things into her car. I enjoyed it.
By Kian
Today in school, a musician called Mary came to visit to hold a workshop with us, students!
We gathered around in a semi-circle in the middle room. Mary showed us loads of fascinating instruments. She even let us play beats with them. As far as I can remember, here are the names of some of them!
French horn
Bongo drums
Clash cymbals
Thats all I remember! I really enjoyed today and Mary was funny and kind. I definitely want to learn how to play the French horn!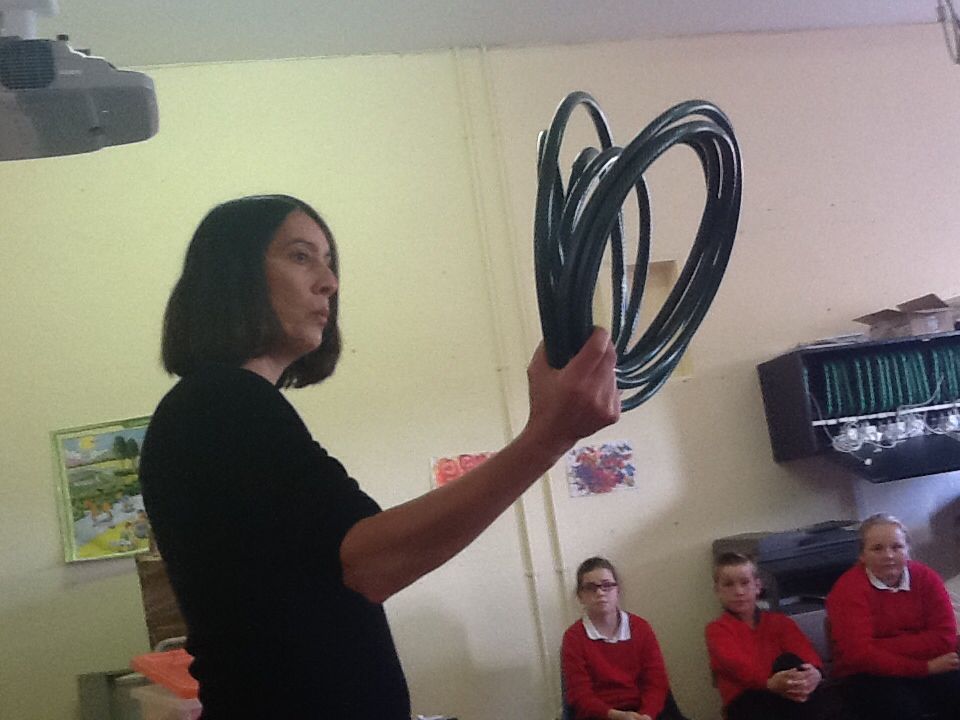 Today a woman called Mary came to our school to do a music workshop with us. She took the small ones from muinteor Rachel's class. We could here the little ones laughing from the middle room where the workshop was. We where going into the middle room after break. When break was over we went into the middle room and picked where we wanted to sit. She started off by showing us her musical instruments. She started banging on all the drums. then she said to clap. She made music out of clapping. She gave out instruments to everyone. We went in groups to do a big musical show. It was really cool and I wish she can come again before I leave for secondary school.
By Shauna